Reliable and flexible solution able to control photovoltaic power plants improving a better network integration.
What is it?
Ingelectus PPC is a reliable and flexible solution that is able to control a series of different elements present in PV and Wind power plants to achieve TSO (Transmission System Operator) or DSO (Distribution System Operator) requirements at the POI (Point of Interconnection).
We comply with international requirements for grid stability management of this system. How? We use closed loop controls offering the following functionalities:
Active power reference and curtailment, with or without ramp rate limiter.
Frequency response depending on the frequency deviations.
Voltage control. AVR (Automatic Voltage Regulator)
Reactive power control and Power factor control.
Reactive power voltage response.
How does this system function? It is suitable for PV power plants with different types of inverters, or other technologies such as BESS (Battery Energy Storage Systems), STATCOM (Static Synchronous Compensator), Capacitor Banks or tap changers.
Additionally, the PPC platform supports energy communication protocols such as DNP3, MODBUS, OPC, and IEC 61850.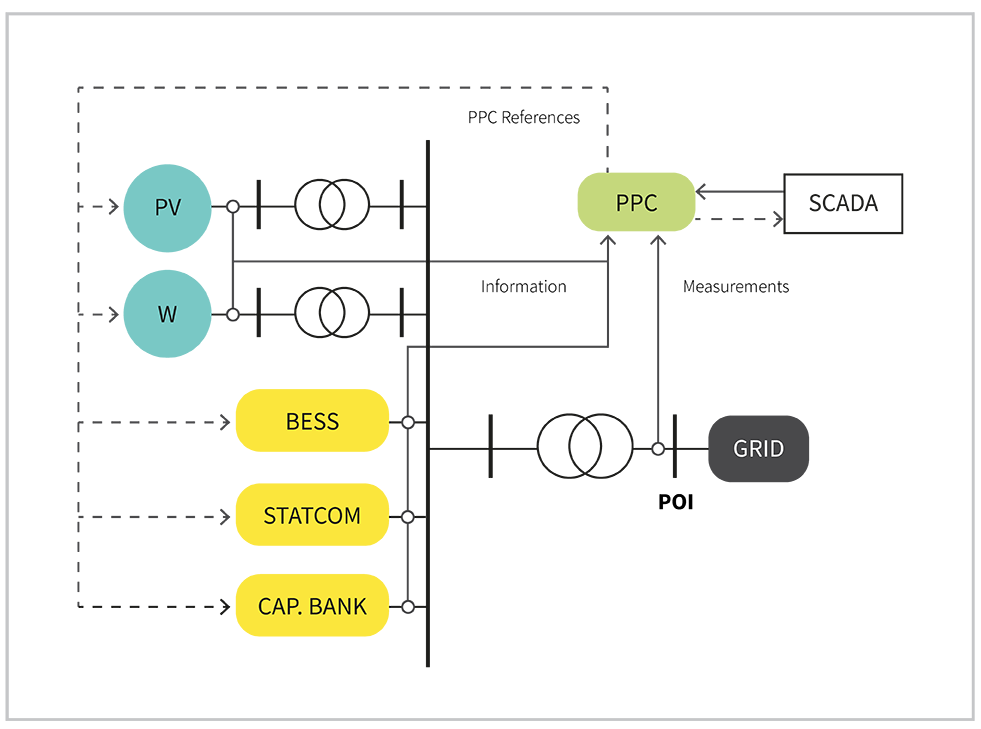 Also noteworthy, Ingelectus Power Plant Controller is the fisrt commercial PPC to obtain the certificate in accordance with NTS631 last version (NTS 2.0, November 2020). This certificate guarantees that Ingelectus PPC complies with the technical requirements for grid connection of generators established in the European and Spanish grid codes. This way, the PPC becomes a consolidated product for generation plants in the European framework, available for any manufacturer in the market. This certificate has been issued by CERE, providing both the certificate of the PPC and the validation of the PSS/E model.
Experience to offer the best quality
Ingelectus PPC has been validated and simulated in the different power system software tools like PSSE or EMTP. The behavior of the Power Plant Controller can be tested before the commission of the power plant. You can detect problems before the real commissioning and also perform the initial parameterization and configuration of the Power Plant Controller.
More than 300 MW controlled in EEUU, México and Spain with no incidents and complying with the different grid codes: CENACE (México) Anexo IV, ERCOT, P.O. 12.2 REE. y P.O. 9 REE.
The flexibility you need
We worked with different inverter manufacturers like Ingeteam, SMA, Kaco, Huawi or Jema and other elements like capacitor banks or tap changers. This allows us to always reach the expected response time.
The PPC can control the number of operations of the tap changer or the capacitor bank and coordinate the operations of the inverters with these elements so that the control is efficient and stable.
High qualified team
We have our own simulation specialist with more than 10 years of experience working with the principal TSOs (REE, REN, PREPA, CENACE, ERCOT, AEMO, etc.). Ingelectus can provide support during the interconnection process and our team has commissioned multiple different PV power plants:
Ensuring the best operation of the plant and maximizing savings.
Guaranteeing the effective performance of power plants.
Providing a new software that can be integrated with other technologies (PV inverters, wind generators, STATCOMs, etc.)